SURF
YEAR-ROUND, UNCROWDED POINT BREAKS!
Punta Mita offers more than a dozen main breaks facing various directions which means you can always find quality surf no matter the direction of the swell or wind. This results in the year-round consistently good surf that makes Punta Mita Mexico's best surf trip destination. Additionally, the diversity of the Nayarit surf spots promises something for experienced and beginner surfers, short boarders, long boarders, paddle boarders and body boarders. Best of all, many of these top Mexico surf spots have no, or very limited, land access which keeps most of them very uncrowded.

To get to these largely secluded breaks, simply walk out your door and grab one of the experienced surf guides waiting to take you in their boat or use our detailed guide which will direct you to these unmarked and largely restricted-access breaks by foot, taxis or buses.
GENERAL CONDITIONS:
Punta Mita, Nayarit is home to many of the longest and least crowded point breaks in Mexico. Due to the westerly-pointing curvature of its coast, there are always surf breaks ideal for the current conditions which results in generally good to great spring, summer, fall and winter surf. Swells from all directions wrap around these reefs and create lined up perfection for 100+ yards ranging from slower but ripable surf on smaller swells to barreling perfection on larger swells.
Sourced from GoSurfPuntaMita.com
Interested in learning to surf OR brush up on your skills? Tranquilo Surf Adventures is the original surf school and adventure company in Punta Mita founded in 2000 by Josue Villegas who has lived and surfed in the Punta Mita area for over 25 years.
Tranquilo Surf is committed to offer you the safest and most complete memorable experience possible whether you are learning to surf, improving your surfing skills or enjoying one of our amazing adventures in Punta Mita. Click here for all the info!
ADVENTURES
The Sea has endless possibilities for adventure- we recommend connecting with Punta Mita Adventures for land and sea exploration in the Punta Mita area.
Adventure is at it's finest with Punta Mita Adventures!
Flyboard
Fishing
Stand Up Paddle Boarding
Sailing
Scuba + Snorkeling
Dolphin + Whale Watching
EXPLORE
When the tide is low, the Marieta Islands are a must see! Affectionately nicknamed the "hidden beach" or "beach of love" (Playa del Amor).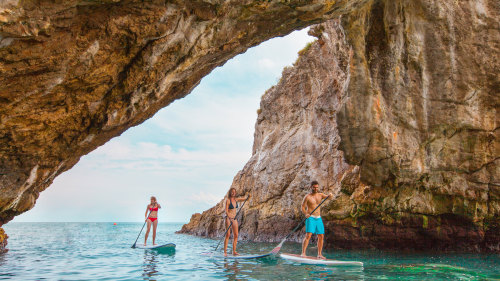 The Marietas Islands were originally formed many thousands of years ago by volcanic activity, and are completely uninhabited. The islands are about an hour long boat ride west-northwest from the coast of Puerto Vallarta and are visited daily by hundreds of tourists, yet no one can legally set foot on the islands. In the early 1900s the Mexican government began conducting military testing on the islands because no one lived there. Many bombings and large explosions took place on the islands causing amazing caves and rock formations to be created. After a massive international outcry, started by scientist Jacques Cousteau in the late 1960s, the government eventually decided to label the islands a national park and therefore protected against any fishing, hunting or human activity.
Protection by the government has created an environment conducive to the development of the marine ecosystem, and is a popular location forsnorkeling and scuba diving.[2] Not even during whale watching tours, people often report seeing sea turtles, manta rays, octopus, wild dolphins,humpback whales and thousands of species of tropical fish around the islands. The islands are also home to a few thousand birds, with species such as the blue-footed booby. Currently, the Mexican government allows only a few companies to go to the islands and allows the landing of passengers onto one secluded beach with the necessary permit from SEMARNAT.
From Punta de Mita, small boats do tours through the islands to see the wildlife of this region. From December to March you can observe gray and humpback whales that come from Alaska to give birth off the coast of Nayarit.[3] Information sourced from Wikipedia.